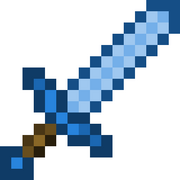 The diamond sword of Spawnpointiness is a diamond sword in the Far Lands or Bust series which was crafted in episode 10. The diamond sword of Spawnpointiness is still intact today, unlike the diamond pickaxe that was crafted in the same episode which broke later on. The sword is currently at the 2266779 monument in a chest on top of it. Kurt put it there so that it would never break.
Ad blocker interference detected!
Wikia is a free-to-use site that makes money from advertising. We have a modified experience for viewers using ad blockers

Wikia is not accessible if you've made further modifications. Remove the custom ad blocker rule(s) and the page will load as expected.